| | |
| --- | --- |
| Welcome to Awali Golf Club, Bahrain | |
AGC: where having fun is the priority, relaxation the reason and playing golf the means. You may play golf as a Member or as a visitor (only BD7.500 a round), and we welcome players of any ability (we have a resident Professional to help you improve). AGC is located east of Awali village, about 30 minutes drive from Manama.
The 6309 yard par-70 desert course of rock fairways and sand/oil greens, Clubhouse and all other facilities are maintained by Bapco, as a recreational outlet for its employees. However, Associate-Guest membership is available for non-Bapco employees. AGC is truly one for its members, run by the magnanimous voluntary efforts of its Committee. Surprisingly, the Clubhouse and terrace often lacks polite banter and genteel behaviour, especially at competition prize-givings. If we had a motto, perhaps it would be "AGC - for golfers who wish to play, rather than be seen to play".
AGC's 2013/14 season (1st August 2013 - 31st July 2014)
We believe our current site became fully operational during 1938, and so we enter the year of our 76th anniversary in 2014. As an example of the Club's long history, we have records of the winners of our most impressive trophy, the Kingsbury Cup, all the way back to the 1938/39 season.
This season's events are now published, and we have another busy year of main competitions, together with some accompanying social/other events, providing everybody with a chance to wack a golf-ball, no matter how good or bad you are.
It is not only
the Club's 76th anniversary in 2014, but also the 51st occasion (3rd-5th April, 2014) of our most prestigious competition, the Bahrain Open Championship. Last season, the Bahrain Open was the major tournament of AGC's biggest-ever event: the Bapco Festival of Golf - ten days of events held in March/April 2013.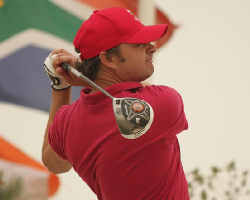 The Bahrain Open started from small beginnings in 1964 and was the first Open Championship for individual players in the Gulf region. The Championship has continued over the years with competitors from Bahrain and many other international locations (see the history, a summary of previous results and photos from the 50th Open Day 1 & Day 2 of April 2013). Andrew Marshall became the Bahrain Open winner for the third successive year last season (his fifth time in total), fighting back from 5-down to the overnight leader Daniel Owen, who had set a new Championship Course record with 61 on Day-1.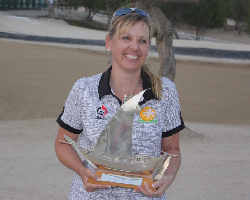 This season also sees the 26th occasion of the Bahrain Ladies Open Championship competition.
The Ladies Open commenced in 1987 (see the history, a summary of previous results and photos from the 25th Ladies Open Day 1 & Day 2 of April 2013, won by AGC's Yvonne Newall). The timing of this season's Ladies Open is planned for the 28th-29th March 2014, one week before the Bahrain Open.
We prosper due to the commitment of Bapco, the generosity of our other Sponsors, the astounding efforts of our voluntary Committee and the dedication of our staff. But guess what - there is always space for you to contribute and volunteer!