| | |
| --- | --- |
| Trophy name: | Clemitson Cup |
| First presented: | 1954 |
| Inscription: | Clemitson Cup - Golf Section |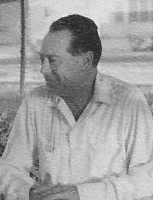 Mr. Richard "Dick" Clemitson arrived in Bahrain in May 1944, and departed in August 1953 (see correspondence below under But who was Clemitson?). As we have records of results for the Clemitson Cup back to the 1953/54 season, it is presumed that Dick donated the Clemitson Cup on the occasion of his departure. It is also presumed that he specified the Cup should be awarded for a series, and thus the Cup was first awarded at the end of the 1953-54 season.

Originally there was a Clemitson Cup for Gentlemen and a Clemitson Cup for Ladies. The Clemitson Cup for Ladies may have been on-going earlier, but it was in the 1955/56 season that a physical trophy was first awarded. This was mentioned as an aside in an article of The Islander about Ed Scarff, on December 13th 1956:
And last year, Mrs. Lee Scarff started to equal her husband's record by winning her first big cup, the Clemitson Cup for Ladies. It was the first year this cup was presented to the ladies.

The location and design of the Clemitson Cup for Ladies trophy is unknown.

The scoring system was originally not the formula which is used today: it used to be that 6 Clemitson points were shared by the winners of each qualifying Competition. Winners typically achieved a number of points in the high teens by the end of the season. However, rumblings of discontent with this system started to appear, as related in the April 10th 1963 edition of The Islander:
A revision to the points system seems to be necessary as this cup [Clemitson] was won with only six points out of a possible twenty one [7 qualifying rounds x 3 points for outright winner, probably]. It seems there are too few points for too many players. A 5, 4, 3, 2, 1 distribution could be the answer.

However, there is no mention in The Islander of a further revision to the system, only that it was abandoned three years later at the end of the 1965/66 season as reported on July 13th 1966, following the recent AGM:
There was considerable discussion on various proposals for the new season, mainly in the administration of the Clemitson Cups, and changes in the order of play of various holes of the course. Discussions on the latter were long, heated and inconclusive – thereby preserving the tradition of these meetings.

So from the 1966/67 season, only a single Clemitson Cup was awarded, based upon the lowest aggregate net score over qualifying competitions, and this format continues today. However, at the end of the 2008/09 season, the Turner Trophy was inaugurated, providing an equivalent to the Clemitson Cup for Ladies, 42 years after it was previously cancelled.

But who was Clemitson ?

Within the records of the Club, there are no written references to "Clemitson": no reference to him on any honours board or competition score record: only the trophy that bears his name. Fortuitously, eagle-eyed member Anil Nair (in 2012) spotted a relevant reference in the Arabian Sun and Flare paper of February 10th 1946 (the internal newspaper at Aramco at that time). In an article related to tennis, Mr "Dick Clemitson" is mentioned (as well as Paddy O'Sullivan).

In October 2013, further research (by Onny) was done, and from the small acorn of the two words "Dick Clemitson" published way back in 1946, a large oak of information has now been uncovered.

"Lived in Bahrain" seen on the website www.ancestry.com nailed down the correct Clemitson: Mr Richard "Dick" Harrington Clemitson. Even more fortuitously for AGC, Mr Michael Clemitson is an avid researcher of the Clemitson family and maintains the website www.clemitson.com. On contacting him, he took up the challenge to find out more about Dick, and donating a large amount of time and effort to AGC's cause by contacting his web of distant relations, achieved considerable results. AGC's thanks go to Michael and those that contributed, especially Mr Ian Van Zyl. About all that we now do not know is the job that Dick did at Bapco.

Dick Clemitson was born in Mafeking, South Africa on 1st April 1905, one of 12 children to Richard Lough Clemitson and Louisa (Fillmore). He married Mary [Bobby] Edith Richardson in September 1926. They had two children (Meredith, born 5/10/1929 and Roy, born 24/4/1934). He divorced in 1935 and married Dorothy "Dolly" (McKitric) on 27/11/1937. They had one child (Joyce, born 17/10/1940). Dick was living in Pretoria, Transvaal in 1926, Bloemfontein, Free State in 1930 and Mafeking in 1932. He died in Durban, KwaZulu-Natal, on 8/11/1987 and is buried at Stellawood Cemetry, Durban, South Africa.
Mr Ian Van Zyl advised (7/11/2013):

Richard Harrington

[Dick Clemitson]

was my Mom's Uncle. My Great-Grandmother (Dick Clemitson's Mother Louisa Clemitson) left a handwritten book about her life - every year she would write another chapter. Dick Clemitson qualified as a fitter - during the war he worked on ships guns in Durban, as was classified medically unfit for service. It seems he went to Bahrain after the war together with his second wife Dolly and their young daughter Joyce. This is what her book has to say about Dick Clemitson and Bahrain:
"In May, 1944, Dick sailed for his new job at Bahrain Island, Persian Gulf"
[Dick was only allowed leave every 3 years] "1947: There is a special event ...and that was Dick, Dolly and Joyce coming home to the Union [of South Africa] on their three months holiday, a month of which they spent in Durban, in an hotel very near to us"
"1950: Dolly and Joyce arriving here to live with me on January 15th (Dad's birthday). Joyce is just the same - taller, and of course, more grown-up. She started school at Addington and seems very happy there and they are both settled in my flat.... Dick arrived in Durban on his long leave... We had lots of outings and lots of fun and pleasure while Dick was here and the year just flew by. Now they are in Bulawayo, waiting to leave for Bahrain Island again."
"1952: In the last letter from Dick, he is full of his home-coming next year. They are traveling in the new comet Air Line. How they have traveled! This time they are coming via Ceylon."
"1953: This August 1953. Dick and Dolly have been and gone and the time went so quickly as they had so much to do, fixing up Joyce and a girl-friend of Joyce's from the Island, who are at boarding school at Kloof together."


Mr Van Zyl also advised:

I contacted my cousin Judy Lancaster in Durban. Dick's daughter Joyce won't be able to help, sadly, however she [Judy] did send the following information and a picture she had:
I have looked at Granny Loo's memoirs and have found the following:
Richard Harrington ("Dick") Clemitson was born in South Africa on 1 March 1905 and died in Durban, KwaZulu-Natal, South Africa on 8 November 1987. His parents were living in Vryburg (in what is now the North West Province) at the time of his birth but his mother had had to travel to Mafeking to give birth to his sister Violet (born 1903) as there was "no nurse in the place to look after me". So I guess we can assume that Dick was also born in Mafeking.
Unlike his brothers, Dick did not get sent abroad during the Second World War. According to Granny's memoirs "Dick could not get a medical pass to join up, so he had an operation and when he got over that he got work at Durban with the Engineers on the ships guns and did a splendid job of war work for a long time". Later on she writes "In May 1944 Dick sailed for his new job at Bahrain Island, Persian Gulf. So now all my boys had gone overseas and we wondered if the War would ever end".

I can't find any reference to who Dick worked for but I seem to remember my Mum telling me that he worked for one of the petroleum companies such as BP or Mobil at their refinery. I asked your Mum and she thinks I might be right but we cannot be certain.
Meredith and Roy were Dick's children with his first wife. Roy died in 1993 and I don't know where Meredith is now or even if she is still alive (She lived in Rhodesia for many years)

[She died in 2010]

.
Sadly Joyce is now in the frail care section of a retirement home (I get my information from cousin Dawn Clemitson). Dick left Bahrain in 1955. Granny's memoirs note "Dick got home for good from the Island and will start work in Durban in January 1956".
I have attached a photo of Dick, Dolly and Joyce, taken in Bahrain.

[Left-to-right: Joyce Clemitson, Dick Clemitson, Dolly Clemitson, at home in Awali].


Mr Van Zyl also advised a message from his cousin Judy, tantalisingly:

When Dick returned to South Africa he gave his cine camera to my dad, together with the cine films that he had shot in Bahrain. And I still have them! Some years ago I asked Joyce if she wanted them but she said no and I tossed them into a box which I never got around to throwing out. I have no idea what kind of condition they are in or whether it would be possible to view them. They haven't been looked at for over 50 years. I have nine reels. Some of them have cards in their cases listing the contents, such as:
Mixed Scenes - Bahrain, Home 746 Bahrain, Joyce's Party, Swimming gala, Commissary etc., Awali, Xmas 1952, House 449, Manama, Races and Refinery, Gardens Awali, Gymkhana Club, Awali Club.
A couple of the reels were filmed in Rhodesia and South Africa (I wouldn't mind seeing those as I am sure some of the family must feature in them) and there is a reel of their travels in Bahrain, Beirut, Rome, Entebbe, Victoria Falls, Bulawayo. The lists of contents are written on the back of Dick's calling cards which read: R. Harrington-Clemitson, Awali - Bahrain Island.


Other information:
From Tom Tyrell (husband of Deborah Clemitson, a daughter of Meredith Clemitson and a grand-daughter of Dick Clemitson): "My wife advises me Richard Clemitson played golf off a scratch handicap - hence the name of the trophy I guess"
From Louie (widow of Godfrey Clemitson, a distant relative of Dick): "If I remember correctly a Dick Clemitson from Johannesburg was invited to our wedding but declined the invitation. Was probably playing golf!"